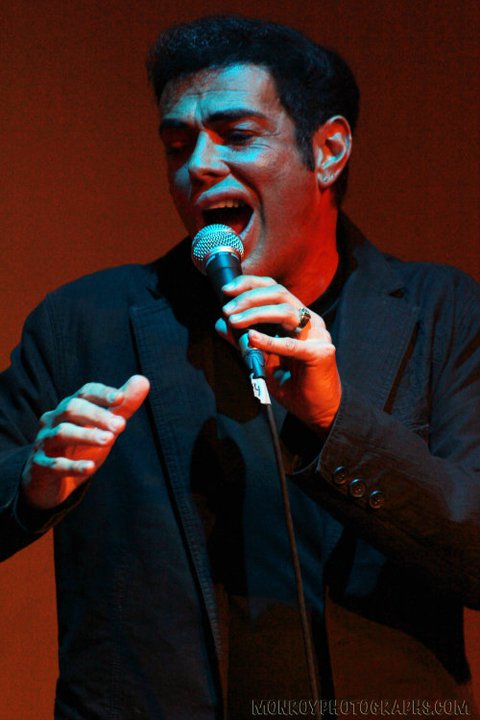 "... transfixed... His voice at its high end, suggests a

more thickly textured echo of Michael Jackson."

Stephen Holden: NY Times, November 2013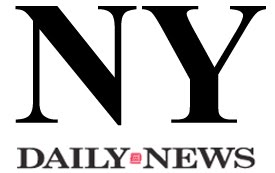 "Simeone proved once again that the sky's the limit for
his stratospheric high tenor and his talent... a special
sound that deserves to be heard!"
Wayman Wong:NY Daily News




"... Olympian voice!" David Finkle (Back Stage)
",,, King of the power ballads!" John Hoglund (Back Stage)



" ... gifted with a gorgeous voice that begs to wrench your gut ..."
Noah Tree (Cabaret Scenes Magazine)

"This is one beautiful voice ..."Jonathan Schwartz (WNYC Radio)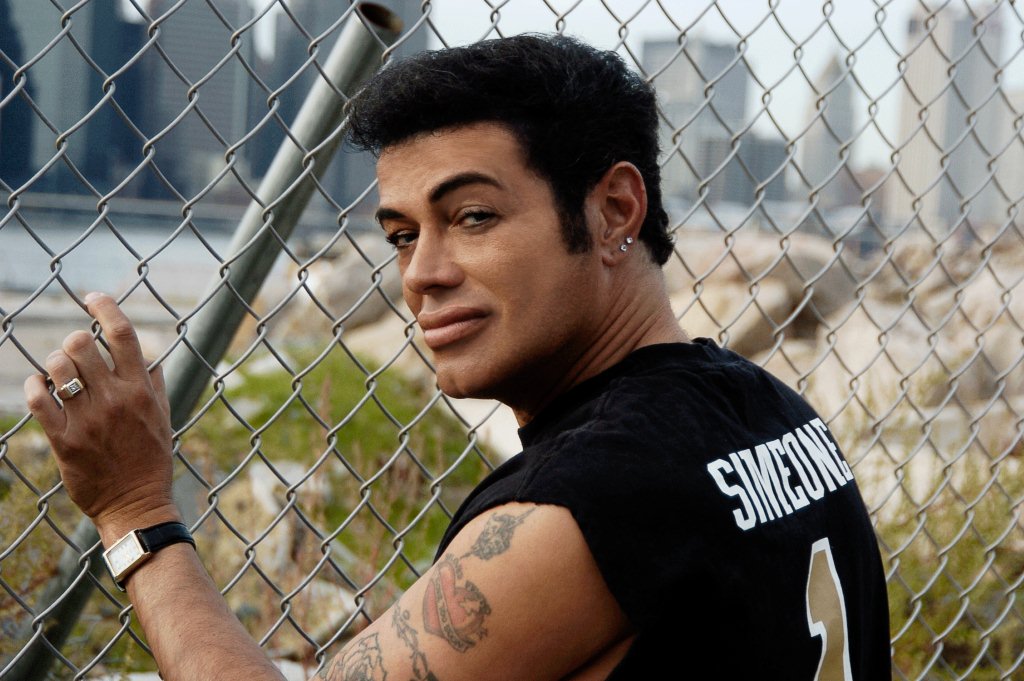 About Marcus ...
"Since his sensational club debut at Don't Tell Mama in January 2001, this Brooklyn native has emerged as one of the most celebrated voices to grace the stages of Manhattan's nightclubs since the days of Streisand at the Bon Soir ... " John Hoglund (Theaterscene.net)
Universally renowned for his achingly beautiful and emotionally-charged interpretations of soulful songs from the American pop songbook (with a penchant for power ballads,) red-hot jazz sensibility, and a fierce R & B flair, Marcus Simeone has been called a musical genius by his peers and fans alike. This is immediately obvious to anyone who hears his unique 5-octave, pitch perfect tenor soar the scales. In recent years, through the Miranda Music label, he has grown into a popular recording artist who has been played on many major outlets. Jonathan Schwartz said, "This is one beautiful voice..."
Marcus's pure, truthful delivery is also in evidence vocally as well as on his original material. He appeared on "Star Search," "Showtime at The Apollo." and the "Charlie Daniels' Talent- Round-up." Between "survival jobs" as a social worker, counselor-therapist and volunteer for patients with AIDS and at-risk foster children, he has managed to earn two masters degrees from New York University where he graduated with top honors. He did this while assisting in the care of his disabled parents. Caring has always played a huge part in his professional and private life; "I have always had a need to help and to share through whatever gifts I've been given and it starts by helping those less fortunate." Family has always been a priority to him and, at times, he put his singing career on hold as his parent's situations became more acute; "Seeing my parent's health decline took precedence. It was my privilege to help them in their hour of need."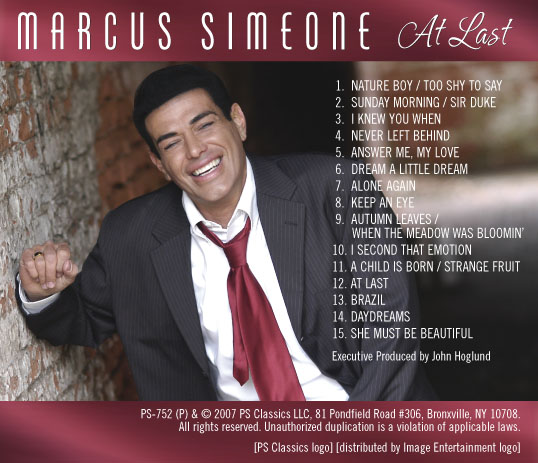 Born Mark Anthony Simeone in Brooklyn, he moved (kicking and screaming) to Staten Island with his family when he was seven years old. A collision with a fire hydrant left him in a coma for almost 6 months when he was a child. He evolved into "Marcus" at the suggestion of his first musical director Rob LaRocca around 2001. At that time, he had become known throughout Staten Island as the "king of kareoke" - repeatedly winning contests. This helped him overcome a crippling shyness. This also led to taking the microphone at local piano bars in Manhattan such as The Duplex, Don't Tell Mama and small clubs where he quickly built a reputation as "the new kid on the block with the magical voice."

... King of the power ballad! (Back Stage 2002)
Marcus has been performing and leading orchestras on both coasts as well as performing a solo act in Manhattan clubs, for several years. He has an encyclopedic knowldge of the history of pop music from mainstays like Sinatra and Billie Holiday to Motown and today's eclectic music scene. Vocally, he admits to being influenced by male as well as female artists such as Johnny Mathis, Phylis Hyman, Angela Bofill, Jane Olivor and Michael Jackson among others. His haunting voice has made him an in-demand singer who has been compared to many greats including: Al Jarreau, Little Jimmy Scott, Luther Vandross, Johnny Mathis and Michael Jackson. His vast repertoire spans the American classic songbook singing chestnut standards as well as rock & roll, gospel, jazz and even soul music.
Music historian, Wall Street Journal critic and best selling author Will Friedwald pointed out in his liner notes on Marcus's first album ("At Last") that he is comfortable is so many genres: Impressive ... his beautiful voice, his extremely wide range, his ability to switch effortlessly from baritone to tenor to falsetto, and, likewise, his multi-generic ability to move easily between the worlds of pop, theater music, cabaret, soul and jazz ."
Marcus has been honored with six Manhattan Association of Cabaret (MAC) awards for vocalist, CD and song of the year as well as the coveted Back Stage Bistro Award (Outstanding Male Vocalist) and the Cabaret Hotline Award. Theaterscene.net named him Entertainer of the Year in 2010 as well as vocalist of the year in 2009 and 2011. In 2013, his bossa-nova style version of "Brazil" was used in an independent film.
Marcus has headlined at almost every room in Manhattan. He was invited to appear at the Mabel Mercer Foundation's Cabaret Convention four times at Jazz At Lincoln Center. He has also sung at Town Hall, Symphony Space, Firebird, The Laurie Beechman Theatre, The Algonquin, B.B. King's, Birdland and Jazz At Lincon Center. Recently, he made his debut at the prestigious Cutting Room and will be returning in 2015.
Aside from performances in Manhattan and the tri-state area, Marcus has also performed around the country in Chicago, Palm Springs, Florida, etc., with several bands at public and private functions. In 2008, he performed at The Waldorf Astoria for Preident and Mrs.Clinton. Hillary Clinton said after, "I have never heard anyone sing like that ... just beautiful." Traditionally, he co-stars at the legendary St. George Theater on Staten Island in their annual Christmas show performing for thousands. He i s a favorite of the children who look up to him.
Marcus has released five albums to date on the Miranda Music label. Two are live recordings: "At Last," "Everything Must Change"and three studio albums, "Haunted" and "The Truth About..." And, Miranda has also released the highly praised "Marcus Simeone.. With Tracy Stark"with special guest vocalist Maria Ottavia featuring more one of a kind songs including classics like:"Where Or When," "I Have Dreamed,""The Twelfth Of Never" and "Misty"as well as more contemporary gems like Peter Allen's "I Could Have Been A Sailor,"Barry Manilow's "Sandra," David Shire and Alan & Marilyn Bergman's "I'll Never Say Goodbye"(from "The Promise") in duet with Maria Ottavia and the Janis Ian wrenching beauty "When Angels Cry." Some of the tunes were previously performed during a lengthy engagement at Manhttan's Metropolitan Room in the critically acclaimed show, "Quiet Storm" with vocalist Tanya Holt (see NY Times quote below.) On March 27, 2014, the show received a MAC Award as Outstanding Duo Show of the Year. Their performance at the award's ceremony at B.B.King's brought down the house.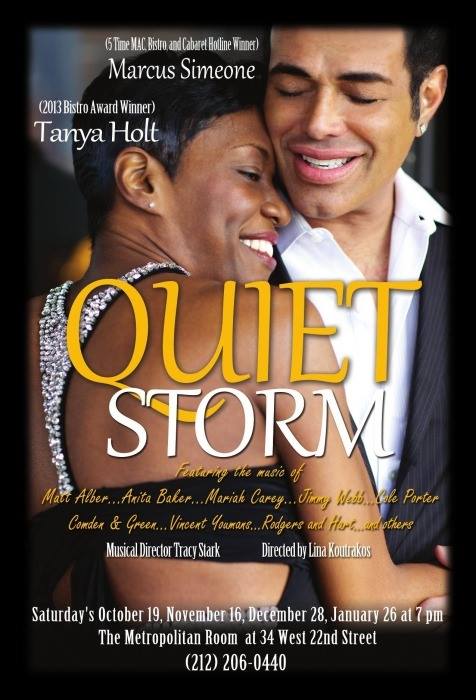 ... Tanya Holt and Marcus Simeone are so symbiotic onstage in Quiet Storm, it's as if they've been working together for a decade. Both artists approach material from the inside out, expressing emotion with sincerity and phrasing rather than gesture or volume, communicating even the deepest of these without abrasive vocal stress. Both have polished presence. The two voices weigh in and play off one another with finesse. During a duet, Holt sometimes reacts to what Simeone is singing as if sharing an intimate opinion with the audience. Simeone has a habit of affectionately touching his partner or taking her hand. She's still, he moves as if music's coursing through him; she looks into our eyes, he channels his own experience. Holt deftly handles minimal patter. They face one another with warmth, neither angling for the spotlight. (Stephen Holden, NY Times, November 2013)