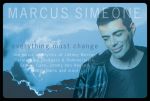 the music and lyrics of
Johnny Mercer, Carole King, Rodgers & Hammerstein, Sammy Cahn, Jimmy Van Heusen, Bobby Darin and more with music direction by Barry Levitt and company


Saturday April 24th 9:45 ~ CD release !



Metropolitan Room 34 west 22 street, NYC $20 music / $15 dessert/drink minimum Reservations: 212-206-0440


The new show will highlight Marcus's own "changes" in music, the world -- and Marcus. The eclectic song list will feature songs that reflect these assorted forms of funny and profound changes in sensibilities and the world we live in. He will sing songs from the catalogs of many great songwriters including Sammy Cahn, Bobby Darin, Carole King, Jimmy Van Heusen, Johnny Mercer and more. Aside from praising his expressive singing and distinct vocal range, writers have compared Marcus to an eclectic mix including some of the great contemporary interpretive vocalists ranging from Al Jarreau to Jimmy Smith to Johnny Mathis and the late Eva Cassidy. Such is his androgynous sound, emotional range and soulful delivery that writer/music historian Will Friedwald wrote, "Like few other singers I have ever heard, Marcus Simeone gets both classic and contemporary pop songs to live side by side with each other and get along in perfect harmony. And he explores the common ground between the two ... his beautiful voice, his extremely wide range, his ability to switch effortlessly from baritone to tenor to falsetto, and, likewise, his multi-generic ability to move easily between the worlds of pop, cabaret, theater music, soul and even jazz. Whatever he sings, he does it with total sincerity. Marcus Simeone is totally sincere, and I for one am glad that he's here."