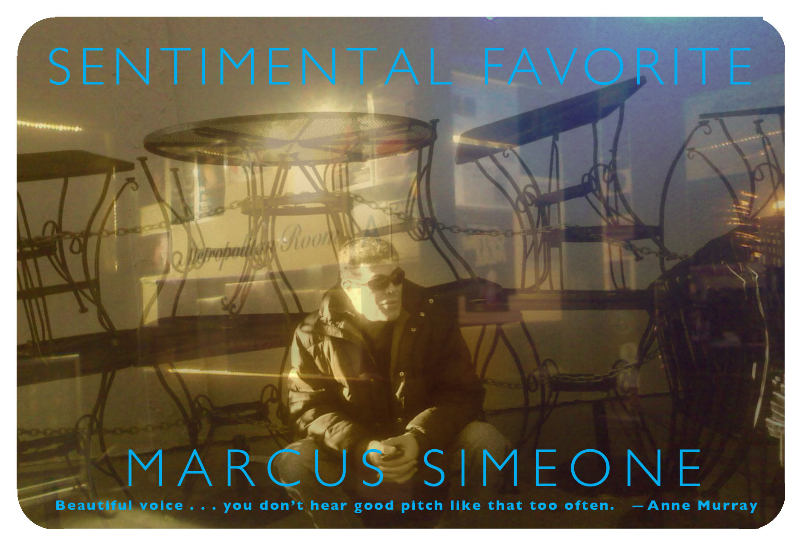 Miranda Music presents
MARCUS SIMEONE
Sentimental Favorites
A lush evening of incomparable music with piano, harp & voice
One Night Only !
Featuring
Tracy Stark, Piano ~ Jose Luis, Harp
&
Special guest: Tanya Holt
Saturday, June 30 at 7:00PM
Marcus Simeone returns to the Metropolitan Room for a special evening with some extraordinary guests for one night only. This show, Sentimental Favorites revisits some of Marcus's most requested songs as well as original tunes - and some surprises. Joining him will be multi-award-winning musical partner and songwriter Tracy Stark at the piano and Bistro Award and Theaterscene.net Award winning harpist Jose Luis. The exceptional Tanya Holt will also join the evening as guest vocalist.
The Metropolitan Room is located at 34 West 22nd Street (between 5th & 6th Avenues.) There will be a $20 music charge and a 2-drink minimum. Reservations: (212) 206 0440.
For this special performance, Marcus will revisit favorites like Janis Ian's He Must Be Beautiful, Everything Must Change, Many Rivers To Cross and Haunted (2011 MAC Award winner for Outstanding Song of the Year, written with Tracy Stark) as well as originals and some surprises. His multi-octave voice has been hailed by critics since his auspicious Manhattan debut. He has frequently been heard on WBAI's popular "Everything Old Is New Again" with David Kenney and recently on Jonathan Schwartz's longtime radio show on WNYC.
Back Stage referred to Marcus as ...King of the power ballad! In his liner notes for Marcus' highly acclaimed debut CD, At Last, respected author/critic and song expert Will Friedwald said of Marcus, … his beautiful voice, his extremely wide range, his ability to switch effortlessly from baritone to tenor to falsetto ... and, likewise, his multi-generic ability to move between the worlds of pop, cabaret, theatre music, soul and even jazz ... The crucial factor is his intimate relationship with the songs he sings. Whatever he sings, he does it with complete sincerity!
Reviewing a recent show in Cabaret Scenes Magazine, Peter Haas gushed …Simeone's warmth and bright energy spilled over … his beautiful, throbbing tenor freer, more assured more expressive …
Marcus has received 5 MAC Awards, the coveted Back Stage Bistro Award and NY Theaterscene.net Critics' Choice Award, and has been nominated 11 times for MAC Awards in different categories. He is currently in the studio recording his fourth album on the Miranda Music label. The new album is scheduled to be released later this year.
Pianist/Arranger/Conductor/Singer/Songwriter, Tracy Stark is a 6-time MAC Award winner. She is also a Bistro Award winner for Musical Direction, and winner of the Dottie Burman Songwriter of the Year Award. Tracy has worked with Lesley Gore, Phoebe Snow, Karen Black, Randy Jones (Village People), Jimmy Osmond, Tovah Feldshuh, Eric Millegan, Tonya Pinkins, Ann Crumb, Marni Nixon, and hundreds of other rock, jazz, and Broadway vocalists. She has conducted, played, and sung at numerous venues all over the world. She has played/conducted on many television shows, including "The Today Show." Her songs are included on at least 20 different compilations, and have been winning accolades in songwriting competitions for the past 2 decades. Her last CD, Feast for the Heart, is produced by Richard Barone, and includes a duet with the inimitable Phoebe Snow. She is currently in the process of recording a new CD, on the Miranda Music label.
Jose Luis is an internationally renowned harpist. He is the only harpist to be named Outstanding Cabaret Artist of the Year by Back Stage Weekly, and to win the NY TheaterScene.net Critics' Choice Award. In 2010, he joined a special group of musicians to form Beowulf Consort. With them, Jose has performed in New York City at Holy Rood Church, Columbia University and Bruno Walter Auditorium at Lincoln Center for the Performing Arts.
Tanya Holt is one of today's most acclaimed, rising vocalists on the cabaret scene. She has won great praise from critics for her show-stopping performances at the Cabaret Convention and New World Stages as well as her shows at Metropolitan Room.
The Metropolitan Room is located at 34 West 22nd Street (between 5th & 6th Avenues.) There will be a $20 music charge and a 2-drink minimum. Reservations: (212) 206 0440.
Tanay Holt and Marcus Simeone
Six Special Saturdays at 7PM
"Quiet Storm"

Music Director Tracy Stark
Bass: Marco Brehm
4/13, 5/11, 6/15, 9/14, 10/19, 11/16,
Metropolitan Room 34 West 22nd Street Chelsea NYC

Reservations 212 206 0440
Exciting New Art Exhibit at the Union City Museum
In Transit: Parallel Time
Photographic Exhibition of 2 Cuban/American Artists
Frank Guiller and Juan-Si González at the William V. Musto Cultural Center
with a special musical presentation of
"Haunted" the show, starring Marcus Simeone
The William V. Musto Cultural Center proudly presents the Opening Gala of Frank Guiller and Juan-Si González art exhibit In Transit: Parallel Time with a special musical presentation of "Haunted" The Show, on Thursday, May 17, 2012 at 7:00 PM at the William V. Musto Cultural Center, 420 - 15th Street in Union City. Refreshments will be served. Free admission.
www.UnionCityMuseum.org
Juan-Sí González / Biography
He describes himself as a communicator who doesn't subscribe to any one discipline or style; his choice of media depends on the idea. He works with installations, photography, video, drawings and performance. In Cuba, he used ephemeral forms, street performances, and underground videos. In the United States, he began building large-scale mixed media installations with videos and photography pieces. He studied at the Higher Institute of the Arts in Havana and was selected to participate in the first and second Havana Biennales. In 1987, he co-founded "Ritual Art-De" (standing for art and rights) and began doing interactive political performances in the streets of Havana and underground video to talk about social issues in Cuba. González left Cuba for Costa Rica in 1991 as a political refugee. Now he has lived in Yellow Springs and he has been awarded two Ohio Arts Council Individual Artist Fellowships, the Spaces World Artists Program Residency in Cleveland, the Artist Residence Project in Wittenberg University, the Visiting Artists Program in Kenyon College and the Individual Artist Residence Project in Sinclair Community College in Dayton.
Juan-Sí's work has been exhibited at the Museo Nacional de Bellas Artes, Havana, Cuba; Errol Barrow Art Center, Barbados; the National Contemporary Gallery, and the Museum of Contemporary Art in Costa Rica; the Frost Art Museum, the Fort Lauderdale Museum of Art, the Naples Museum of Art, the Cuban Museum of Art, The Miami Art Museum, The Moore Space, The Spain Cultural Center, and the Hardcore Art Contemporary Space in Miami; the Museum of Latin American Art in Long Beach, California; El Museo del Barrio, Exit Art and Ollantay Foundation in New York; Spaces Alternative Gallery, Dayton Visual Art Center, and the Dayton International Peace Museum in Ohio; The Museum of Art, Indiana; the Art contemporary Gallery, Walters State Community College and Slocumb Gallery at Tennessee State University; Sarah Moody Gallery at The University of Alabama; Louisiana Art Gallery, Louisiana Tech University; Turman Art Gallery, Indiana State University; International House Gallery, Philadelphia; the Arlington Arts Center, Virginia, Pennsylvania; the Cambridge Arts Center, Massachusetts; Blaffer Gallery, University of Texas, Houston; Katherine Nash Gallery and Regis Center for Art, Minneapolis, Minnesota; Museo Carrillo Gil in Mexico; Centre Georges Pompidou, France; SOF Art House Gallery, Toronto, Canada; the House of Culture in Prague; Kunsthalle Museum in Rostock, Germany; Rabindra Gallery and Lalit Kala Art Gallery, New Delhi, India; National Art Gallery, Colombo, Sri Lanka; Manzar Akbar Gallery, Karachi, Pakistan; Gallery of the Madurodam Foundation, the Hague; Cultural Center of Bechem, Belgium; House of Culture of Pitea, Sweden; the Mestna Galerija, Ljubljana, Slovenia; the Galerie Vincent Kunstraume and the Institute of Hispanic Culture, Vienna, Austria. He has also participated various international art fairs including, Art Chicago; Art Belgium; Arco; Photo Buenos Aires, Pinta London; Art Miami, Arte Americas and Art Basel in Miami. His work is included in several private and public museum collections.
***
Frank Guiller / Biography
He has worked collaboratively and individually on a variety of
interdisciplinary projects, using to depict the day-to-day experience.
His work are of social meanings.
Born in 1959 in Habana City, Frank Guiller is a Cuban - American artist of the generation that emerged with the revolution.
Frank studied at the Cuban Museum of Fine Arts and the Academy of Fine Arts San Alejandro also at the ISA (Higher Institute of the Arts in Havana) where he took Engraving Taller classes. There, he absorbed the acute attention to form and details on subsequently refining his own visual and conceptual form that emerged through his focus on the points of intersection between engraving/drawings, photography, videos, and spatial mixed media.
He left Cuba 1988 to live in USA.
Guiller is an artist that work in New York City, he attended Mercy College, Fine Arts and Media Communications, subsequent to that he has taken advanced Graphics Curriculum and Presentation Graphics Desktop Design, Parson School, New YorkPost-Graduate program where he began using digital art and digital photography, since 1990 he has been work as an Art Director in Advertising agencies.
Recent group exhibitions include 2012 Close Up Vallarta, 2do. Festival Internacional de Video Creación, MexicoI, Forum of Latin American Photography from Sao Paulo, Centro Cultural Español, Coral gables, Miami, Florida, It's not the Economy but the Epistemology, (group show), Collage Gallery, Coral Gables, Florida, Unbroken Ties: Dialogues in Cuban Art, (Traveling Exhibition), Flint Institute of Arts, Michigan, The Femme, Gallery 1200, Hoboken, New Jersey, Shanghái Art Fair, Latin American Pavilion, Art Center, Shanghái, China, Café XII – The Journeys of artists of the Cuban Diaspora, Sangre de Cristo Art Center, Pueblo, Colorado, Past is History / Future is Mystery, Miami Dade College – Freedom Tower Gallery, Miami, Florida, Gallery Hartmann, (group show), Barcelona, Spain, Gallery Senda, (international artist show), Barcelona, Spain
***
"Haunted" is a show about love, unrequited love and love on the way,featuring Marcus Simeone on vocals; Tracy Stark is musical director and accompanying on piano, Peter Calo on guitar, MaryAnn McSweeney on bass, and special guest Tanya Holt.
***
About Marcus Simeone
Since his sensational debut in January of 2000, Marcus has emerged as one of the most celebrated singers to grace the stages of Manhattan's nightclubs since the days of Streisand and the Bon Soir.
Universally regarded for his heart-wrenching interpretations of ballads, red-hot jazz sensibility, and powerful pop flair, Simeone's musical genius is in evidence on his original material as well. Earlier in his career, this native of Brooklyn appeared on Star Search, Showtime at The Apollo. and the Charlie Daniel's Talent- Round-up.
Marcus is both a singer and a songwriter, Marcus has been performing and leading orchestras on both U.S. coasts, and as a solo act, for the last decade. His haunting, multi-octave voice has been compared to many greats, including Al Jarreau, Marc Anthony, and Johnny Mathis. Simeone cites among his greatest inspirations Jane Olivor and Phyllis Hyman. Marcus has won five MAC Awards for both singing and songwriting, as well as the coveted Bistro Award and the Cabaret Hotline Award.
After having staged nearly a dozen distinct shows, Marcus has received multiple awards from the Manhattan Association of Cabarets & Clubs and Back Stage among his many accolades. He has also been invited to perform at the annual Mabel Mercer Cabaret Convention, representing today's scene, numerous times.
Simeone's eagerly awaited second live CD, Everything Must Change was released in April of 2010. The album showcases the various musical styles he has perfected including a demanding song list that includes R & B/Pop tunes as diverse as "Many Rivers To Cross," "A Change Is Gonna Come" and "Everything Must Change." His voice soars with ease through some classic and rarely heard tunes that also includes "Since You Stayed Here" and "There'll Be Some Changes Made Today." All the electricity that sparked that exciting show to date has been captured on the new live album. Musical director Barry Levitt heads the trio.
Marcus' third and latest CD "Haunted" was just released on the Miranda Music Label.For more info regarding the new CD, go to
www.marcussimeone.com
and read a personal letter from Marcus about the project.
"Haunted" The Show (from Marcus Simenoe)
I wanted to create a show and a CD recording very much like what I believe was one of the first concept albums to ever hit the pop market, Frank Sinatra's "In The Wee Small Hours Of The Morning".
I believed that there was a way to meld the many facets of wanting to pay tribute to the great idea of his that project, yet keeping it original and different in not covering any of the songs, just the mood and the ideology.
Well, since times have certainly changed, and the way people listen to music has changed, we decided to make the first half of our album an experience much like sitting in a small cafe and listening to a singer sing the songs of long lost love, obsession, despair, and unrequited love. I wanted the listener to know it would be ok to revel in his or her heartache.
On our 2011/12 concept album/show of a good haunting, we decided that at some point we would slowly lift the spirit of the listener and the performance by speaking of survival. In other words, in our musical set, both listener and singer feel triumphant at the journey's end. Just to be fair though, before we are completely finished with our journey, we find ourselves reflecting once again on a love that can not be forgotten, (Sentimental Favorite).
I am proud of this collection of beautiful music. I was honored to have worked with so many great songwriters, i.e. John Bucchino, Heather Sullivan, Tracy Stark, and to reinvent some of the music of Mercer and Arlen, Harburg, Rupert Holmes, Hank Cochran, Cyndi Lauper and many others that can be found on the CD.
Sunday February 17th 4:pm.

Maria Ottavia Special Guest Marcus Simeone "Love"
Featuring Daryl Kojack 4PM
Metropolitan Room 34 West 22nd Street Chelsea NYC
Reservations 212 206 0440
The Christmas Show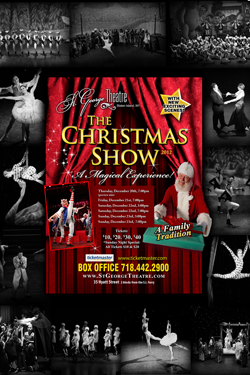 "A magical family tradition!"
Thursday, December 13th: 7:00pm
Friday, December 14th: 7:00pm
Saturday, December 15th: 3:00pm
Saturday, December 15th: 7:00pm
Sunday, December 16th: 3:00pm
Sunday, December 16th: 7:00pm
Tickets: $10, $20, $30, $40
To purchase tickets click here:
or call the SGT at 718-442-2900 during box office hours.
http://www.ticketmaster.com/St-George-Theatre-tickets-Staten-Island/venue/1027
VOICES:
The Heroes' Concert

Feinstein's At Loews Regency
Sunday, Sept. 11 at 7:30pm

To benefit Tuesday's Children (www.tuesdayschildren.org)


The evening is presented by John Hoglund in association with Eric Michael Gillett and will feature world renowned award-winning stars from Broadway, cabaret, and the music industry in one stellar concert in memory of those lost on 9/11 and to benefit Tuesday's Children (www.tuesdayschildren.org)

Mark Hartman will be musical director of the evening and Eric Michael Gillett will serve as director.

Ticket prices are $500 for Golden Circle, $195 for Angel Sponsor and $95 for Sponsor tickets. There will be a $25 food or beverage minimum. The show starts promptly at 7:30pm. Doors will open for dinner and seating at 6:30pm. Feinstein's at Loews Regency is located at 540 Park Avenue at 61st Street in New York City. For reservations and information, please call (212) 339 4095.


Some of the highly acclaimed artists' from Broadway, Cabaret and The Metropolitan Opera appearing include: Karen Akers, Tom Andersen, Yanna Avis, Julie Budd, Sheera Ben-David, Ann Hampton Callaway, Liz Callaway, Jim Caruso, Baby Jane Dexter, Stephanie D'Abruzzo, Tony DeSare, Anita Gillette, Eric Michael Gillett, Julie Gold, Anders Holst, Adriane Lenox, Jose Luis, Karen Mason, Maureen O'Flynn, Tom Postilio, Marta Sanders, Marcus Simeone, Jarrod Spector, Billy Stritch, Deborah Voigt, Lillias White, Terri White, Carol Woods and Colleen Zenk.
Haunted
Sunday Dec 4th at 9:30
Dec 19th 9:30
"King of the power ballads ! " Back Stage"Silky and sinuous interpretations...! " NY Daily News "Beautiful and haunting!" Worall Newspapers
The Metropolitan Room
212.206.0440
34 West 22nd St.
Between 5th and 6th Avenues
New York, NY 10010
Marcus will be a featured vocalist in the upcoming Christmas Show at The St. George Theatre in "The Christmas Show"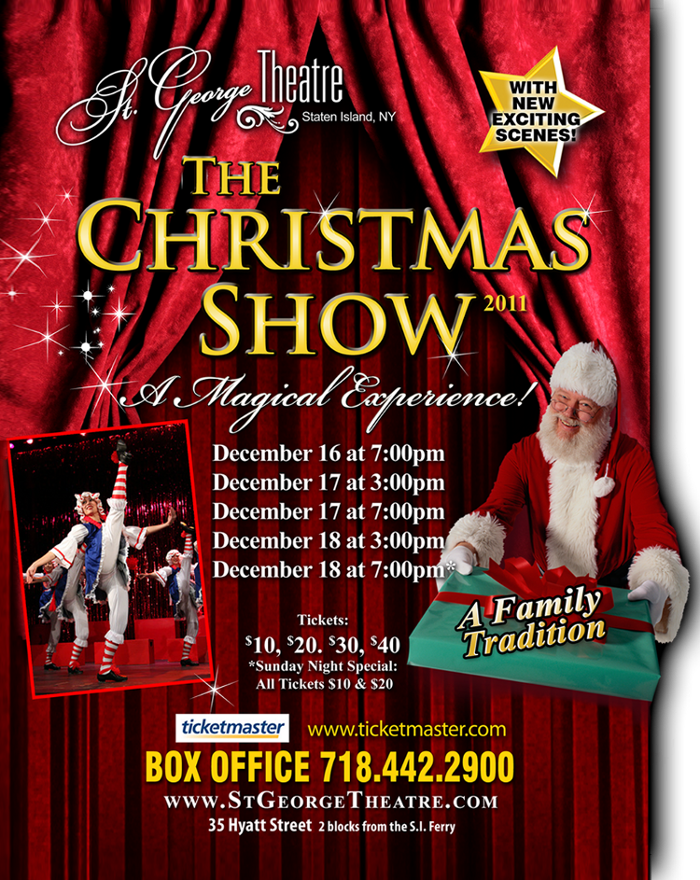 Marcus will be apearing in the show:
Simply Streisand, a celebration of Barbra Streisand,
Sept. 7 at 7 PM.