Sean Harkness - Lina Koutrakos - Marcus Simeone
An unplugged and beautifully balanced trio featuring rich pop, blues, jazz and more. Loaded with solos, harmonies, duets, instrumentals and a collectively high level of real live talent.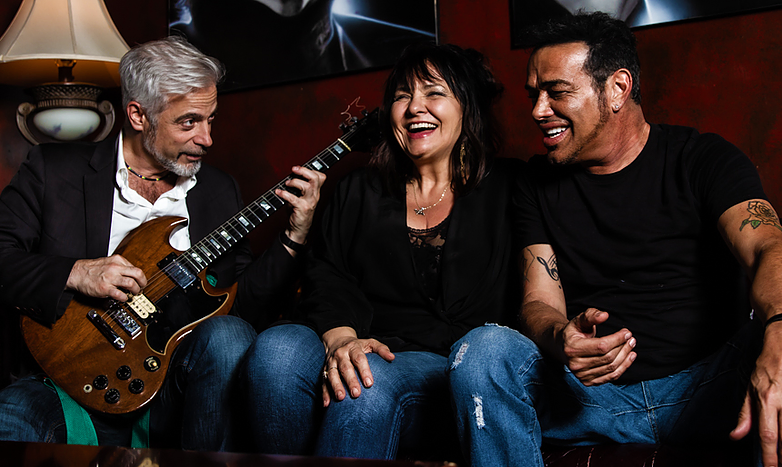 Three individual, multi awarded, rave reviewed and seasoned NYC performers combine to offer both a laid back and passionate hour or so of song and story. With trios, duets and solos they share their own musical treatments and points of view on covers that span 5 decades and sprinkled with originals featuring all 3 writers.
Together for over a year now, CLEARLY NOW has already garnered numerous reviews, was the opening act for Air Supply, was featured at Lincoln Center and won the Best Major Ensemble Award from the Manhattan Association of Cabarets and Club Award for 2018.
They are each also musical coaches: Lina is an Award winning Performance Coach, Marcus teaches voice and Sean teaches guitar, ensemble skills and arranging for vocalists.


Three seasoned performers—three friends who are comfortable onstage and with each other.Three fantastic voices and one masterful guitar! The simple, spontaneous , laid back and effortless feel of the evening spoke volumes about the talent and experience of the performers.
NITE LIFE EXCHANGE NYC
Sean Harkness

Sean is one of the most in demand guitarists both studio and live accompanist in New York and beyond. Sean 's immersive approach to any song is an eclectic blend of technical rule and tasteful insanity. After 4 solo albums and numerous guest recordings see for yourself a guitarist on fire!

Lina Koutrakos

Lina is a unique voice and a unique performer, her sultry entrance purposely misleads you to her emotional explosion of sound, her joyful to painful song storytelling is truthful. Lina is an award wining director and performance coach. she has toured the planet and soon to release her 7th album.

Marcus Simeone

Marcus has a celebrated voice of grace and power, with a 5 octave vocal range he puts the full in soulful and emotionally wrecks the audience! Numerous solo albums, guest recordings and tours he's ready to sing you away.