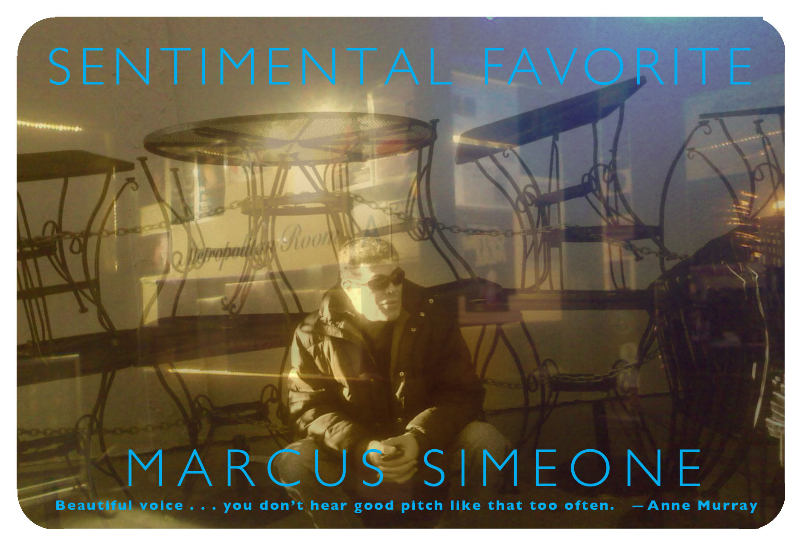 Miranda Music presents
MARCUS SIMEONE
Sentimental Favorites
A lush evening of incomparable music with piano, harp & voice
One Night Only !
Featuring
Tracy Stark, Piano ~ Jose Luis, Harp
&
Special guest: Tanya Holt
Saturday, June 30 at 7:00PM
Marcus Simeone returns to the Metropolitan Room for a special evening with some extraordinary guests for one night only. This show, Sentimental Favorites revisits some of Marcus's most requested songs as well as original tunes - and some surprises. Joining him will be multi-award-winning musical partner and songwriter Tracy Stark at the piano and Bistro Award and Theaterscene.net Award winning harpist Jose Luis. The exceptional Tanya Holt will also join the evening as guest vocalist.
The Metropolitan Room is located at 34 West 22nd Street (between 5th & 6th Avenues.) There will be a $20 music charge and a 2-drink minimum. Reservations: (212) 206 0440.
For this special performance, Marcus will revisit favorites like Janis Ian's He Must Be Beautiful, Everything Must Change, Many Rivers To Cross and Haunted (2011 MAC Award winner for Outstanding Song of the Year, written with Tracy Stark) as well as originals and some surprises. His multi-octave voice has been hailed by critics since his auspicious Manhattan debut. He has frequently been heard on WBAI's popular "Everything Old Is New Again" with David Kenney and recently on Jonathan Schwartz's longtime radio show on WNYC.
Back Stage referred to Marcus as ...King of the power ballad! In his liner notes for Marcus' highly acclaimed debut CD, At Last, respected author/critic and song expert Will Friedwald said of Marcus, … his beautiful voice, his extremely wide range, his ability to switch effortlessly from baritone to tenor to falsetto ... and, likewise, his multi-generic ability to move between the worlds of pop, cabaret, theatre music, soul and even jazz ... The crucial factor is his intimate relationship with the songs he sings. Whatever he sings, he does it with complete sincerity!
Reviewing a recent show in Cabaret Scenes Magazine, Peter Haas gushed …Simeone's warmth and bright energy spilled over … his beautiful, throbbing tenor freer, more assured more expressive …
Marcus has received 5 MAC Awards, the coveted Back Stage Bistro Award and NY Theaterscene.net Critics' Choice Award, and has been nominated 11 times for MAC Awards in different categories. He is currently in the studio recording his fourth album on the Miranda Music label. The new album is scheduled to be released later this year.
Pianist/Arranger/Conductor/Singer/Songwriter, Tracy Stark is a 6-time MAC Award winner. She is also a Bistro Award winner for Musical Direction, and winner of the Dottie Burman Songwriter of the Year Award. Tracy has worked with Lesley Gore, Phoebe Snow, Karen Black, Randy Jones (Village People), Jimmy Osmond, Tovah Feldshuh, Eric Millegan, Tonya Pinkins, Ann Crumb, Marni Nixon, and hundreds of other rock, jazz, and Broadway vocalists. She has conducted, played, and sung at numerous venues all over the world. She has played/conducted on many television shows, including "The Today Show." Her songs are included on at least 20 different compilations, and have been winning accolades in songwriting competitions for the past 2 decades. Her last CD, Feast for the Heart, is produced by Richard Barone, and includes a duet with the inimitable Phoebe Snow. She is currently in the process of recording a new CD, on the Miranda Music label.
Jose Luis is an internationally renowned harpist. He is the only harpist to be named Outstanding Cabaret Artist of the Year by Back Stage Weekly, and to win the NY TheaterScene.net Critics' Choice Award. In 2010, he joined a special group of musicians to form Beowulf Consort. With them, Jose has performed in New York City at Holy Rood Church, Columbia University and Bruno Walter Auditorium at Lincoln Center for the Performing Arts.
Tanya Holt is one of today's most acclaimed, rising vocalists on the cabaret scene. She has won great praise from critics for her show-stopping performances at the Cabaret Convention and New World Stages as well as her shows at Metropolitan Room.
The Metropolitan Room is located at 34 West 22nd Street (between 5th & 6th Avenues.) There will be a $20 music charge and a 2-drink minimum. Reservations: (212) 206 0440.